Residential & Commercial 1 Day Clean and Seal Available
Looking for a comprehensive clean and seal treatment for your outdoor surfaces? We'll have them cleaned and ready to use – in just one day.
No matter how beautiful your home is, dirty and stained pavers can make your property appear shabby.
Maintaining your home gives you a sense of pride and satisfaction and adds value. This is just as important for commercial business properties. A clean, bright, well-maintained business shows professionalism and care and instils trust.
Wear and tear is a natural part of life, and maintaining your property can be time-consuming, expensive and exhausting.
Let us save you time, money and the frustration of property upkeep – with our specialised 1 Day Clean and Seal service. We want your home or business to look its best!
Call Perth Power Wash NOW for a FREE QUOTE and book your 1 Day Clean and Seal today!
The Benefits of Our 1 Day Clean and Seal Service
Our expert team will arrive on time, high-pressure clean your surfaces to perfection and instantly seal them, all on the same day. No more stains, dirt or grimy marks – just clean and fresh surfaces for your home or business you can use the next day.
Save Time – Our expert team only need 1 day to complete your clean and seal. We use a unique sealant that is quick and easy to apply, which means you save time and money too!
No Waiting – Time is precious. We provide instant results. Book us one day, and you are ready to roll the next.
Quick Results – We use superior water-based sealers – specially formulated to enable an application to wet surfaces. We clean it, seal it – and the job is done. No waiting around for it to dry.
Why Sealing Your Surfaces Is So Important
Protection against sun and severe weather damage (UV protection).
Reduces wear and tear.
Inhibits the absorption of dirt, oil and other staining products.
Prevents the growth of moss and weeds.
Improves the texture, brightness and overall appearance of your surface.
Decreases the amount of time you need to spend cleaning.
Results that last – With us, quality also means quantity. Our product is long-lasting, so you can enjoy and get the most out of your clean surfaces.
Perth Power Wash Sealants
Are the Best in The Business
We use high-performance, industrial-strength sealers designed and formulated to provide the highest quality product for your surfaces. Your property deserves the best!
We provide long-lasting results! Our superior sealers soak into the material, chemically changing the surface properties, unlike the usual sacrificial sealers, which remain on the surface. Our highly specialised products contain a technology specifically for application to wet substrates. This means you can use the surfaces within 24hrs and you won't see any unsightly marks or stains, and your new shine will last longer.
How Does the Sealant Work?
Your Surface Sealant Will…
Repel water, oil and grease. Providing a stain-resistant surface. No more dirt and stains to ruin your day!
Remain transparent and create a lasting easy-to-clean shine.
Protect from the environment and deterioration.
Your New Surfaces Will not…
Let you down!
You won't see any cracks, peeling, marks or stains.
Lose adhesion or make your surfaces slippery.
Yellow or discolour over time. The sheen is there to stay – up to 5 years!
Our sealers penetrate and react with the substrate.
This allows the product to soak in rather than linger on the surface like other sacrificial sealers.
What does this mean?
Quality, longevity, and stain-resistance performance.
Would you like to know more about our 1 Day Clean and Seal?
Don't hesitate to call us. Our Perth Power Wash team will help you with any questions you may have.
Our superior sealers will restore your pavers and surfaces to their former glory within 24hrs!
We will professionally clean and seal your driveways, pools, garages, and walkways with care and expertise.
Fast and Efficient. Your time matters to us; we provide the complete service in 1 day.
Our team are expert, fully trained professionals.
Value for money. Your 1 Day Clean and Seal won't break the bank at $8.00 – $12.50 per sqm.
Customised care for your surfaces.
Superior equipment. We only use the best technology and products, ensuring professional work with little mess or disruption for you.
Locally owned and operated.
Environmentally friendly products. Your pets and family will be safe!
Friendly customer service.
We guarantee satisfaction with our work!
No more wasting your time cleaning the grime! Let us do the work for you.
Your surfaces will be cleaned, sealed and delivered with a smile and a long-lasting guarantee.
Call our friendly Perth Power Wash team TODAY to learn more about how we can make your life easier and surfaces brighter with our 1 Day Clean and Seal.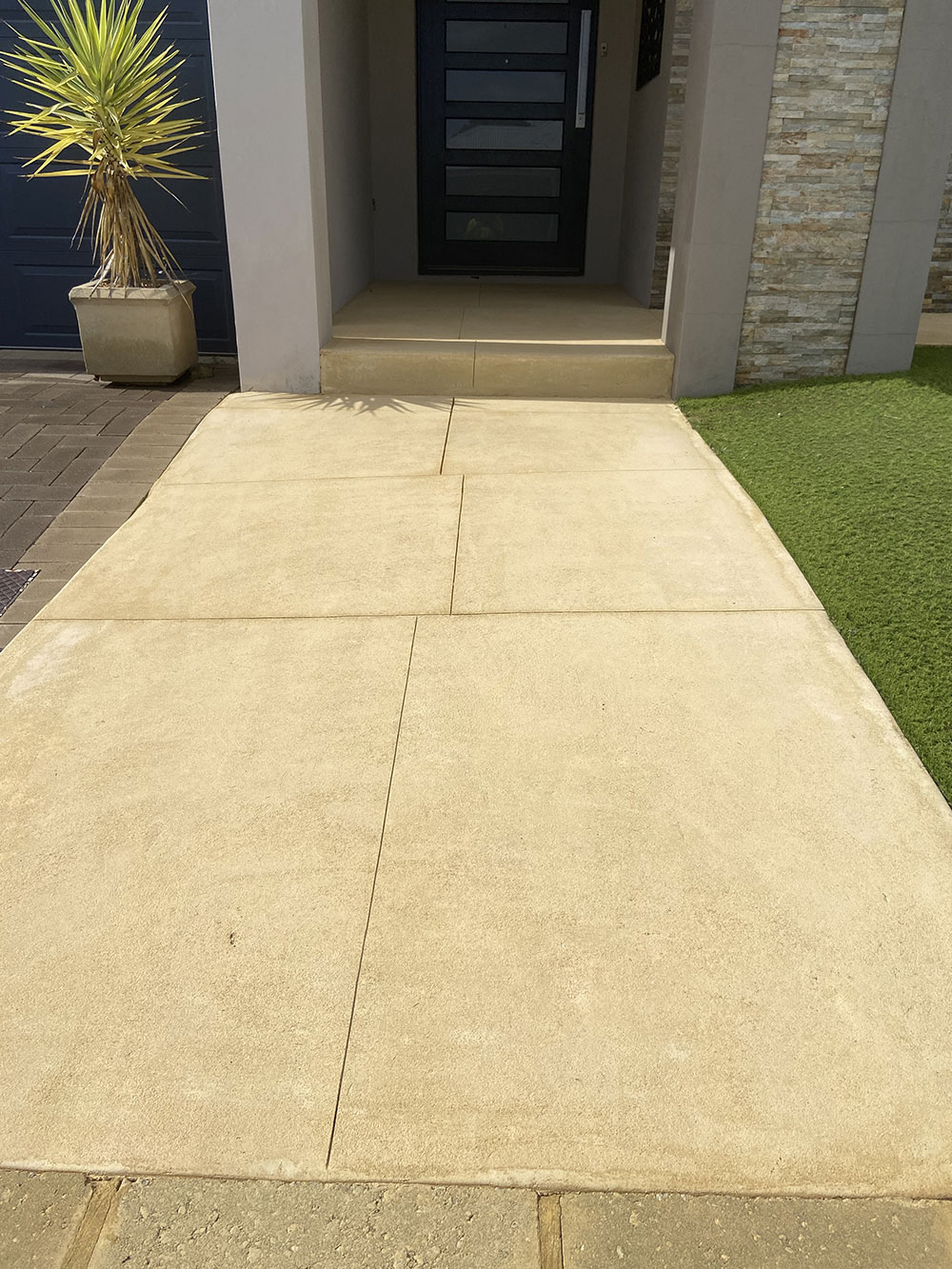 Gregg was fantastic, he was friendly, professional, careful and had great attention to detail. I highly recommend Gregg at Perth Power Wash.
I highly recommend Perth Power Wash, I was thrilled with the results achieved. Gregg provides a professional service, shows care for property, very reasonably priced and kept me informed along the way. Couldn't ask for more, brilliant job, thank you so much!!
Gregg is a pleasure to do business with. He's friendly and organised, and he really looks out for what's best for his customers and their pressure cleaning needs. Doing a great job is his number one priority. I thoroughly recommend Perth Power Wash if you're looking for the best exterior house cleaning service in WA!
Great job Greg. Highly recommended. Hard working, prompt and attention to detail.

Thank you.

We Service all areas
Joondalup to Mandurah and Beyond
Call 0432 144 326 to get started today
Where is Perth Power Wash based?
We are based in Comet St, Singleton.
What locations do you service?
Perth Power Wash specialises in servicing Rockingham properties, we also service everywhere from Joondalup to Mandurah and beyond. If you're not sure whether you're within our service area, check with our friendly team!
How do you clean the surfaces before sealing?
We use only the best in technology and quality equipment. We professionally clean, using the pressure of high-powered water to blast away stains, dirt and grime.
Pressure washing gets into the 'pores' of materials like concrete, targeting oil, algae, mould, dirt, engine grease and more.
It's a more intensive process and is best suited to resilient surfaces like concrete, patios, driveways and building exteriors.
How is the sealant applied?
We use a high-flow spray kit designed for maximum coverage with a quick and easy application rate.
How long till I can use the surface?
2 hours after application you are free to walk on the surface.
24 hours after application before driving or parking on the surface!
Book us one day and hold an event the next. It's that easy.
How long will the sealer last?
Our specialised sealants will keep your surfaces shiny for up to 5 years! They will not crack, peel, pop or discolour during this time.
What surfaces can I use this on?
We can spruce up most external surfaces. Such as
Concrete and pavers
Clay
Natural Stone
Liquid and Limestone pavers
Terracotta Tiles
Exposed Aggregate
Are your cleaning products and sealants environmentally friendly?
Yes! We believe in preserving the environment and the safety of your home or business.
We are water-efficient and use only gentle, eco-friendly detergents.
Our sealants are all water-based, so they do not release harmful vapours into the atmosphere, keeping your property safe and clean.
Do you want your property to sizzle with an undeniable shine?
Let's Do This! Call Perth Power Wash NOW To Receive Your FREE Quote.
Fill out the form below and well be in touch A.S.A.P
Looking for something else?